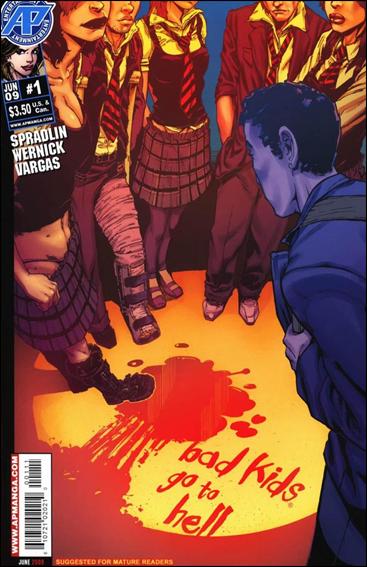 Hey everyone. I recently had a conversation with Bad Kids From Hell series co-writer, Matt Spradlin. Here's how it went:
DD: Hey Matt thanks for taking time to talk with me about Bad Kids Go to Hell. Would you mind sharing with us what the series is all about?
MS: It's really about greed. And retribution. And the sins of the father. And it all plays out in the library of a private school in an affluent mid western suburb with 5 spoiled young kids who think there are no consequences to being just like Mommy and Daddy. Imagine Paris Hilton, Lindsay Lohan, and a few douche bags from 'The Hills' all being locked up in detention for 8 hours.. when suddenly, the Reaper comes a callin' !
DD: How did the idea for Bad Kids Go to Hell come about?
MS: Barry and I were coming out of a movie in Beverly Hills when we caught bits and pieces of a conversation between a group of high school kids. They sounded like a group of jaded 40 yr olds who had gone through rehab and divorce. They were just over it.
Barry and I started trading stories about our respective high schools and basically came to the conclusion that Daniel Waters' film 'Heathers' and all the John Hughes movies would be rolling over in their film vaults if they could hear what kids were like today... So we agreed: An update on the 80's teen horror comedy was needed.
DD: The book is kinda a take on The Breakfast Club. Were you big fans?
MS: Absolutely, John Hughes really had his finger on the pulse on the disenfranchised youth of the 80s , just as the real cynicism was setting in... and then Daniel Waters' came along and nailed the coffin shut. In my opinion those films STILL hit closer to the mark than most "high school is hell" films today, which in itself, is a reflection of kids today... meaning more films bump along the surface, cause, from what I can observe, more kids are into creating a superficial lifestyle.
DD: What kinds of things can we expect from this series?
MS: Blood, of course! But also, we wanted to make sure to keep touching on the characters insecurities briefly as we go fifth gear into the mystery, horror, and comedic aspects of the story.
I personally love physical comedy, so we decided to keep putting the character 'Matt' through the wringer with some outrageous situations. Hopefully, people dig on those flashbacks.
DD: So how did you all come together to create this book?
MS: Barry and I wrote the script and then I set out to find the artist. Tony Vargas was just the perfect match. His style is what I call "realistically unrealistic". He draws characters just real enough to let the serious moments play out, but is stylized in a way that lets you get away with the sillier stuff.
DD: Was Antarctic Press quick to jump on board with the title? Personally I haven't seen a lot of horror titles coming from them in the past.
MS: Yep. I pitched the idea at Lee Duhig and he said, "Let's do this." We stayed out of each others way, which was ideal for both of us. After I found the artist and they approved, things moved very quickly from there.
DD: So what types of books are you into?
MS: While I don't really read near as many comics as I use to.. I dig the grittier 'non-fiction' stuff like Brian Michael Bendis' 'Torso', I also loved Straczynski's 'Rising Stars'.. and Dave Sims' 'Cerebus' will always have a place on my heart. I started reading that series when I was in middle school and it was cool to watch it come to an end with issue 300 (like he always said it would). That comic truly was a labor of love and the work of a great artist.
DD: Were you into any horror titles growing up that lead you to want to create a book like this?
MS: Old school all the way for me - magazines like CREEPY and EERIE. And then of course, Vault of Horror. Also, DC Comics put out this large sized comic book that I still have stashed away which had some really scary 'Creepshow' style stories that were awesome.
DD: Do you have any other books in the works?
MS: Yes. We have a couple of 'one-offs' (48 pages) that we plan to do.. It will be some fun stuff, but not horror.
DD: How does it make you feel finding out that issue #1 has sold out?
MS: That's just fantastic...it absolutely exceeds all my expectations, who woulda thunk it?


DD: Where can readers find out more about this book?
MS: We have a facebook group that is like a mini-mafia right now, but we're thinking of expanding our ranks a little... and you can follow us on that frikkin' twitter. (http://twitter.com/BadKidsGoToHell)
DD: Any last words on the book or to possible readers out there?
MS: Yes, please spread the word! And pester your local comic store to order the next issues. And make some serious racket about Tony Vargas. The guy worked his ass off and this is his very first full series. He's gonna be a hot shot and you can say. 'I've got the first series that dude did!"
DD: Thanks so much for your time Matt.
MS: Thank you, Dan. We appreciate the press.